REGISTER JOURNAL

, 

1979-8903

(PRINT)-

2503-040X

(ONLINE)

is open access, peer-reviewed, International Journal which has the perspectives of languages and language teachings. This journal aims at presenting and discussing some outstanding issues dealing with Applied Linguistics and English Language teachings.
This journal is

published every June and December by

IAIN Salatiga

, Indonesia and it has
has been accredited by the Indonesian Ministry of Research, Technology and Higher Education (RistekDikti) of Republic of Indonesia in SINTA (Achieving SINTA 2) since 24th October 2018. The recognition is published in Director Decree (SK No. 30/E/KPT/2018) and it is effective until 2021
.
This journal has been successfully indexe

d at
CLARIVATE ANALYTICS,
Emerging Sources Citation Index
(ESCI)

of
Web of Science
since June 2019
and  
ACI (ASEAN CITATION INDEX)
since April 2019
.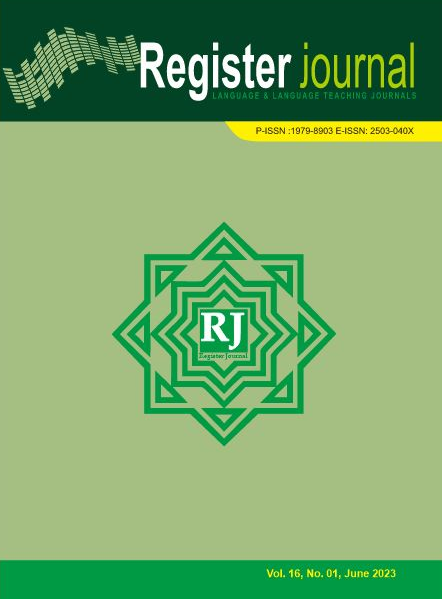 Announcements
CALL FOR PAPER: Call for High Quality Papers for JUNE 2020

Call for High Quality Papers REGISTER JOURNAL

ESCI WoS, ACI, DOAJ, SINTA 2 , Moraref indexed journal
English Education Department, (IAIN) Salatiga,
1979-8903 (Print) and 2503-040X : (Online)
CALL FOR PAPERS VOL 13 NO.1 JUNE 2020
l SCOPE: Applied linguistics and ELT
l Submission deadline:
l April 30, 2020
l Website: http://bit.ly/registerjournal
l Author Guidelines:
l Submission> Author Guidelines
Article template: http://bit.ly/template2020register

--


Faizal Risdianto,S.S,M.Hum

State Institute of Islamic Studies Salatiga, Central Java, Indonesia
Mobile: +62856-4201-9501
E-mail: register@iainsalatiga.ac.id

1. SCOPUS ID


https://scholar.google.co.id/citations?hl=en&user=f0_UT9kAAAAJ



Posted: 2020-03-15
More...

TOP TEN INTERNATIONAL INSTITUTIONS

Top 10 Institutions as the reflection of great diversity of journal article contributors of Register Journal IAIN Salatiga.

Posted: 2020-02-16
More...

Enactment of Article Publishing Cost (APC)

Dear Authors,

This is to inform you that starting from the publication schedule of Vol. 12 No. 2, 2019 (December),

REGISTER JOURNAL

will apply Article Publishing Cost (APC) of

IDR 1, 000,000

for local author and $ 100 - $ 500 for foreign author depends on the complexity of proofreading jobs. The APC will be applied to manuscripts which have been accepted by the Editorial Team for publication in the journal. 

Please do not hesitate to contact our administrator for further information about this.

Thank you.

 

Regards,

Editorial Team

Faizal

register@iainsalatiga.ac.id

Posted: 2019-08-26
More...
Vol 12, No 2 (2019): REGISTER JOURNAL