REGISTER JOURNAL, 1979-8903 (PRINT)- 2503-040X (ONLINE) is an OPEN ACCESS, Peer-reviewed, International ESCI Web of Science Indexed Journal, which has the perspectives of languages and language teachings. This journal has the Focus and Scope at presenting and discussing some outstanding contemporary issues dealing with Applied Linguistics and English Language teachings.
This journal is published every June and December by IAIN Salatiga, Indonesia, and accredited by the Indonesian Ministry of Research, Technology and Higher Education (RistekDikti) of the Republic of Indonesia in SINTA (Achieving SINTA 2) since October 24, 2018. The recognition published in Director Decree (SK No. 30/E/KPT/2018), and it is effective until 2021. This journal has successfully indexed in CLARIVATE ANALYTICS, Emerging Sources Citation Index (ESCI) of Web of Science in June 2019.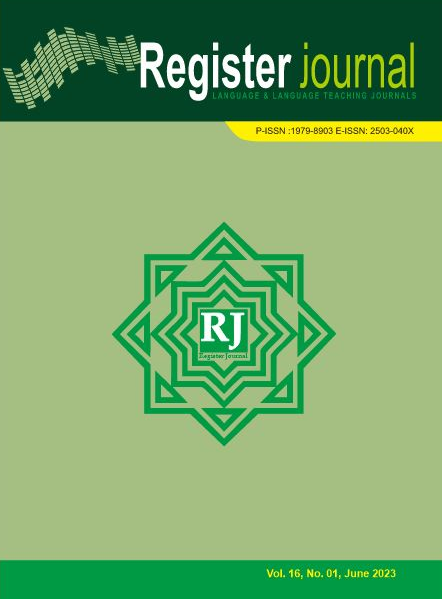 Announcements
Recruitment of Reviewers in the scope of SFL (Systemic Functional Linguistics)

 Recruitment of Reviewers in the scope of  SFL (Systemic Functional Linguistics)

Recently lots of manuscript were sent to REGISTER JOURNAL whereas the journal has only few experts in the scope of SFL (Systemic Functional Linguistics). Therefore, The editorial board of  ESCI Web of Science, DOAJ, Sinta 2 indexed REGISTER JOURNAL https://journalregister.iainsalatiga.ac.id/index.php/register/index welcomes you to join us to be part of Honorable Reviewers.

Status: Part time

Working language: English

Working style: Internet-based

Payment: Voluntary job, no payment

Description :

Participation in the peer-review process is absolutely essential to the success and reputation of the journal. Reviewers along with the editors determine which work is of quality and significance. Due to extensive readership, the research and scholarship presented will ultimately have an impact on literacy in classrooms, nationally and internationally. Reviewer's name will be listed on the journal's webpage.

Requirements:

a). possess a master or doctoral degree in the specific subject related closely to the journal;

b). hold a job at a university or academic organization, in a teaching or research position;

c). be fluent in academic and professional English;

d). have a strong interest in scholarly journal;

e). work quickly and accurately to tight deadlines.

How to apply :

please Complete this application form: https://forms.gle/A9ck8SffWr8s5hSU9

 

Posted: 2020-12-30
More...

CALL FOR PAPER: CALL FOR PAPER JUNE 2021




 

REGISTER JOURNAL

ESCI Web of Science, SINTA 2 Indexed Journal

CALL FOR HIGH QUALITY PAPERS JUNE 2021

APC: 105 USD

•SCOPE: Applied Linguistics & English Teaching

English Education Department, (IAIN) Salatiga,

1979-8903 (Print) and 2503-040X : (Online)

CALL FOR PAPERS VOL 14 NO. 1 June 2021

•Submission Deadline: March 15, 2021

•Author Guidelines:Submission> Author Guidelines

E-mail: register@iainsalatiga.ac.id

Posted: 2020-12-15
More...

The Diversity of REGISTER JOURNAL's Authors

 

 

The Diversity of Authors published their works in REGISTER JOURNAL are from Four continents: Asia, Africa, Europe and America.Check this link URL to know the details: https://academic.microsoft.com/journal/2764421218/institutions?pi=1

Posted: 2020-10-30
More...
Vol 14, No 1 (2021): REGISTER JOURNAL (IN PROGRESS)
Table of Contents
Articles

This article has been read 213 times.

This article has been read 139 times.
| | | |
| --- | --- | --- |
| | Muhammad Imran Shah, Saeed Ahmad Ahmad, Ali Danishs | |

This article has been read 143 times.
| | | |
| --- | --- | --- |
| | Hanung Triyoko, I Dewa Putu Wijana, I Praptomo Baryadi | |

This article has been read 40 times.
| | | |
| --- | --- | --- |
| | Riyadi Santosa, Djatmika Djatmika, Dyah Ayu Nila Khrisna | |

This article has been read 33 times.