REGISTER JOURNAL

,

1979-8903

(PRINT)-

2503-040X

(ONLINE)

is OPEN ACCESS, Peer-reviewed, International ESCI Web of Science Indexed Journal which has the perspectives of languages and language teachings. This journal has the

Focus and Scope

at presenting and discussing some outstanding contemporary issues dealing with

Applied Linguistics and English Language teachings.
This journal is

published every June and December by

IAIN Salatiga

, Indonesia, and
has been accredited by the Indonesian Ministry of Research, Technology and Higher Education (RistekDikti) of Republic of Indonesia in SINTA (Achieving SINTA 2) since 24th October 2018. The recognition is published in Director Decree (SK No. 30/E/KPT/2018) and it is effective until 2021
.
This journal has been successfully indexe

d
IN CLARIVATE ANALYTICS,
Emerging Sources Citation Index
(ESCI)

of
Web of Science
since June 2019.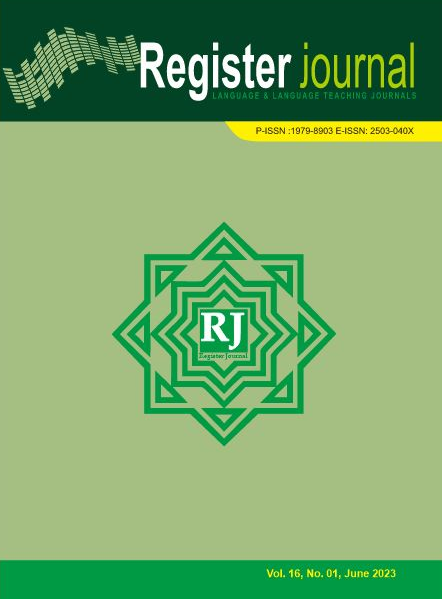 Announcements
15 scopus and 48 wos citedness of REGISTER JOURNAL

Posted: 2020-10-16
More...

CALL FOR PAPER: ELITE CONFERENCE 2020

REGISTER AT http://s.id/eliteicon20

Posted: 2020-07-27
More...

International LTTE Conference

LTTE Conference Speakers: 

1. Jonathon Reinhardt
The University of Arizona, USA- CALICO President
2. Yilin Sun
South Seattle College, USA
3. Joko Nurkamto Universitas Sebelas Maret, Indonesia-TEFLIN President
4. Christine Coombe
Dubai Men's College, United Arab Emirates
5. Jonathan Newton
Victoria University of Wellington, New Zealand
6. Alice Chik  Macquaire University, Australia
7. Utami Widiati  Universitas Negeri Malang, Indonesia
8. Ju Seong Lee  Education University of Hong Kong, Hong Kong
9. Chan Narith Keuk
Royal University of Phnom Penh, Cambodia
10. Colm Downes  British Council, UK

Further information: https://ltte2020.weebly.com/

Universitas Sebelas Maret (UNS)
Posted: 2020-07-07
More...
Vol 13, No 2 (2020): REGISTER JOURNAL (IN PRESS)
Table of Contents
Articles

This article has been read 124 times.
| | | |
| --- | --- | --- |
| | Laura Yosephine Tan, Listyani Listyani | |

This article has been read 77 times.

This article has been read 87 times.

This article has been read 91 times.

This article has been read 91 times.
| | | |
| --- | --- | --- |
| | Sebastianus Menggo, I Made Suastra | |

This article has been read 46 times.

This article has been read 17 times.

This article has been read 31 times.