Ijtihad : Jurnal Wacana Hukum Islam dan Kemanusiaan is an academic journals published twice a year (June and December) by the Faculty of Sharia  State Islamic University of Salatiga in cooperation with Asosiasi Dosen Hukum Keluarga Islam (ADHKI) Indonesia. This journal emphasizes specifications in the discourse of Islamic Law and Humanity, and communicates actual and contemporary research and problems with regard to Islamic studies. This journal openly accepts the contributions of experts from related disciplines. All published articles do not necessarily represent the views of journals, or other institutions that have links to journal publications.
Ijtihad : Jurnal Wacana Hukum Islam dan Kemanusiaan was accredited B by the Directorate of Higher Education Ministry of Education and Culture of Republic of Indonesia in December No: 80/DIKTI/Kep/2012 effective until December 2017. In July 2018 the Jurnal was reacredited SINTA 2 by Indonesia Ministry of Research, Technology and Higher Education (SK No. 21/E/KPT/2018).  This journal has become a CrossRef Member since year 2015. Therefore, all articles published by this journal will have unique DOI number. On September 13, 2022 this journal was indexed by Scopus and accredited Sinta 1.
Click here for Submitting Manuscript Tutorial
P-ISSN: 1411-9544    
E-ISSN: 2477-8036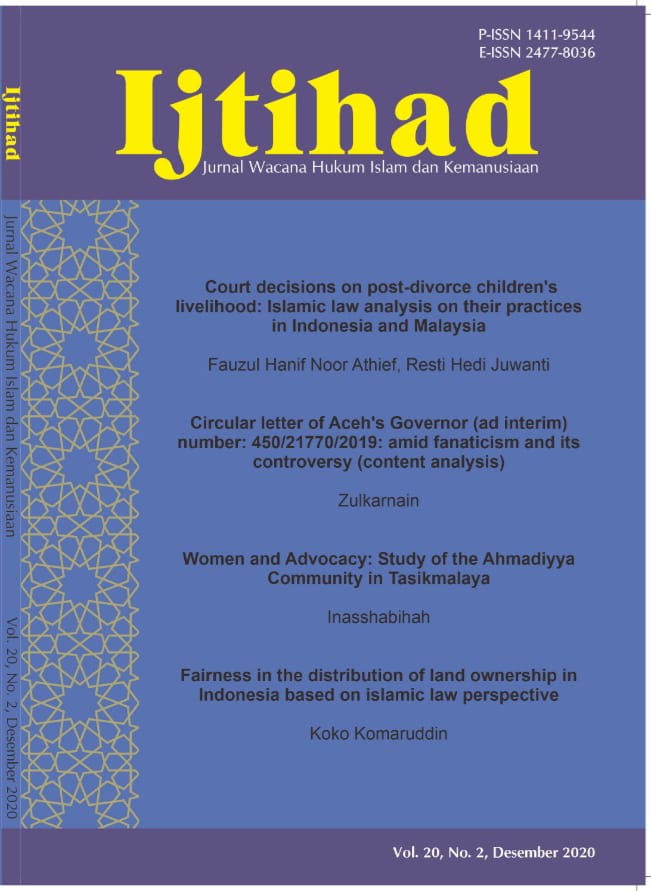 Announcements
ACCEPTED BY SCOPUS

Dear all writers, readers, reviewers. Jurnal Ijtihad: Wacana Hukum Islam dan Kemanusiaan has been accepted by 

Scopus

 and 

SINTA 1

. 

Posted: 2022-09-21
Vol 23, No 1 (2023)
Table of Contents
Articles

This article has been read 343 times.

This article has been read 144 times.